This episode comes to you from the heart of New York City for our first live podcast episode discussing cryptocurrency, ICO, & blockchain law. In late January almost 100 founders gathered at the offices of McCarter & English for our January Founder Institute Meetup! The crypto founders there heard from Joe Daniels, who is the Co-Chair of the McCarter & English's Venture Capital & Emerging Growth Companies practice. Joe has worked on numerous SAFT & token offerings, including San Francisco based Quantstamp, which just raised $30 million in its pre-sale, along with Augmate, The Valorem Foundation, RealECoin, VIMarkets, CoinBoost, and RecylcleGO.
During this event, Joe reviewed the current cryptocurrency, blockchain, & initial coin offering laws in 2018. Learn the key things that you need to know about ICO's, the SEC, international business, SAFT agreements, and more. If you are interested in understanding the legalities around cryptocurrencies, tokens, and the blockchain, then you will definitely enjoy this episode. The slides that Joe is going over during his presentation are available below if you want to follow along. They are packed with information, such as:
What are Blockchain Tokens (Cryptocurrencies)

What is an ICO

How much has been raised in ICOs / SAFTs

How do SAFT agreements work

Regulatory Issues w/ ICOs

The SEC's response to the emergence of cryptocurrencies

Current Best Practices for cryptocurrencies
Follow Along With All The Slides From The Event: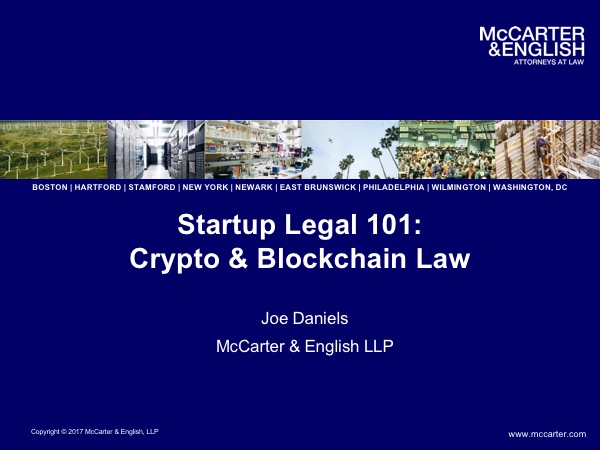 Listen to this episode now:
Join the shows A-list backchannel for exclusive access to additional Ambition Today content, deeper guest insights, a community of fellow fans, and much more. Plus, Learn the single greatest piece of advice this guest has ever learned!
Thank you so much for listening and applying these useful tips and strategies to your life! If you have a chance, please drop by and leave a review for the show on iTunes by clicking here. Also, who should I interview next? Please let me know on Twitter or in the comments. Do you enjoy this podcast? If so, please leave a short review in the comments below. It keeps me going…
You can find the full transcript of this episode here.
Be sure to listen and subscribe to the show on your favorite podcast platform.
Ambition Today Episode Sponsors: